Maxi-Peel Facial Cleanser - Pore Refining
Maxi-Peel Facial Cleanser - Classic
We moved all products in this page to our sister webstore dedicated to
Personal Care, Beauty and Health products.
---
Click HERE to go back to Main Splash Page
Kabayan Recommends

Dra.Vicky Belo and her team of skin care experts at the Belo Medical Group bring you their own line of scientifically formulated products for your skin.


The trusted brands in personal care and beauty products: SkinWhite, Maxi-peel, Extract, Kolours, and Vitress


Who else would know for sure how to give Filipinas of all ages that young and blemish-free skin but a 100% Filipino-owned company?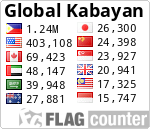 Philippine Cigars Webstore
Tabacalera & Tabaqueria Cigars:
Highly rated by Smoke magazine.
www.philippinesbestcigars.com
Baguio: The coolest place in the Phils


If you havent been to Baguio in the past 5 years, now is the best time to go!
www.haggiyo-mountain-tours.com
Food Delivery Service

Send HOT FOOD to your Family & Friends in the Philippines!
www.e-Kain.com
Travelling To The Philippines?

Up to 75% discount with instant confirmation!
AsiaTravel.com