We moved all products in this page to our sister webstore dedicated to
Personal Care, Beauty and Health products.
---
Maxi-Peel is the Philippine's leading skin care brand in the exfoliant category. The proven effective combination of Tretinoin and Hydroquinone helps in treating and preventing mild, moderate to severe cases of pimples, blackheads and whiteheads. It also delivers significant whitening and prevents formation of dark spots.
» More...
---
SkinWhite. Experience the power of whitening with SkinWhite whitening range. Scientifically formulated to deliver safe and effective whitening in as early as 2 weeks! With the revolutionary RENEWWhite 3C that conditions skin through gentle micro-exfoliation then releases powerful agents that prevents skin darkening effectively whitening skin. Enriched with Viatnourish Formula, a rich blend of Vitamin B5, B3 and E that deeply moisturizes skin and prevents it from harmful free radicals making it soft and smooth. » More...
---
Extract. Experience the natural power of nature's extracts with Extract skin care products. Specifically formulated to deliver intense moisturizing, natural and effective whitening while deeply nourishing skin to reveal smoother, softer, naturally radiant skin. » More...
---
Kolours . Only Kolours know how to take care of Asian hair. Through the Science of Color and Care for Asian Hair, Kolours' unique formulation deeply penetrates hair cortex to give superior color coverage from root to tip while maintaining hair's natural moisture. Advanced Chroma-Plus Formula in Kolours Shampoo and Conditioner enhances various shades without changing its original color with a unique hydrating system that makes hair soft, manageable and shiny. » More...
---
Vitress. Behold the transformation of your dull, dry and damaged hair with Vitress Hair Solutions products. It is scientifically formulated to address the specific needs of your hair. Vitress protects your hair against harsh environmental elements that may damage hair making it dull, dry, frizzy and unmanageable. Each unique product is enhanced with vitamins, minerals and natural moisturizers to nourish your hair. » More...
NOTE: The following product brands has already been discontinued by Splash Corporation and no longer available in the market: Extraderm, Biolink, Biolink VCO, Baby Spa, TheraHerb VCO and Tricks.
---
Kabayan Recommends

Dra.Vicky Belo and her team of skin care experts at the Belo Medical Group bring you their own line of scientifically formulated products for your skin.


The trusted brands in personal care and beauty products: SkinWhite, Maxi-peel, Extract, Kolours, and Vitress


Who else would know for sure how to give Filipinas of all ages that young and blemish-free skin but a 100% Filipino-owned company?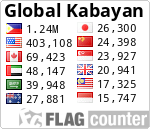 Philippine Cigars Webstore
Tabacalera & Tabaqueria Cigars:
Highly rated by Smoke magazine.
www.philippinesbestcigars.com
Baguio: The coolest place in the Phils


If you havent been to Baguio in the past 5 years, now is the best time to go!
www.haggiyo-mountain-tours.com
Food Delivery Service

Send HOT FOOD to your Family & Friends in the Philippines!
www.e-Kain.com
Travelling To The Philippines?

Up to 75% discount with instant confirmation!
AsiaTravel.com