Be Careful with My Heart Teleserye
This is a story about a simple girl MAYA DELA ROSA (Jodi Sta. Maria) who journeys to the big city to follow her dreams to become a flight stewardess to help her family. She would allow no one to stop her, not even the handsome, wealthy widower RICHARD LIM (Richard Yap), who threatens to ruin her dreams.

Ironically, Richard is her last hope in reaching her dreams because of his influence in the Airline Industry and he will only help Maya if she agrees to become his children's temporary nanny.

Maya succumbs to the condition. But upon entering the Lim Mansion, she finds herself involved in the private lives of Richard and his three problematic children LUKE (Jerome Perez), NIKKI (Janella Salvador) and ABIGAIL (Mutya Orquia).

Maya sees that there are problems to be solved in the Lim family because since Richard's wife died, the family's joy died with her. And so Maya took it upon herself to bridge Richard to his children. And eventually, she succeeds in rebuilding the Lim family.

However, in repairing their broken hearts, Maya encounters bigger challenges that will test her strength and will challenge even her own heart. Because she falls in love with the kids and with Richard himself.

--NOTE: Does NOT have Subtitle Features---

OUT OF STOCK: Be Careful with My Heart Vol.1 ( US$ 14.99 DVD )


OUT OF STOCK: Be Careful with My Heart Vol.7 ( US$ 14.99 DVD )
OUT OF STOCK: Be Careful with My Heart Vol.8 ( US$ 14.99 DVD )
OUT OF STOCK: Be Careful with My Heart Vol.9 ( US$ 14.99 DVD )
OUT OF STOCK: Be Careful with My Heart Vol.10 ( US$ 14.99 DVD )
OUT OF STOCK: Be Careful with My Heart Vol.11 ( US$ 14.99 DVD )
OUT OF STOCK: Be Careful with My Heart Vol.12 ( US$ 14.99 DVD )


OUT OF STOCK: Be Careful with My Heart Vol.15 ( US$ 14.99 DVD )


OUT OF STOCK: Be Careful with My Heart: The Fairytale Wedding ( US$ 15.99 DVD )

Quick Jump:
Artist • Category • Monthly Video Releases • DVDs • English Subtitles

You don't Speak Tagalog?
Then see our list of Tagalog Movies Videos with English subtitles.

Having problems playing VCDs on your DVD or VCD player?
Then see our list of videos in DVD format. Unless otherwise specified, KabayanCentral DVDs are in multi-region format and should work in any DVD player.

Looking for Vintage Tagalog Movies? View our selection of Vintage B&W Videos from LVN and Sampaguita Pictures. Most are black and white, but we also have some color movie classics.

Still can't find the movie you want?
Just order unlisted Tagalog movies. If it exists, we will find it!

DISCLAIMER. Unless otherwise stated, KabayanCentral DVDs are multi-region DVDs and thus compatible with DVD players anywhere in the world.

KabayanCentral Region 3 Coded DVDs will ONLY play in multi-region DVD players or Region 3 (South East Asia, Taiwan, Korea, Hong Kong ) DVD players only.

Also, 95% of Tagalog videos do NOT have english subtitles. Unless specified in the video page, the video will NOT have subtitle features.

KabayanCentral VCDs work with most US and European DVD and VCD players. However, some users have encountered problems using some VCDs on some DVD and VCD players. Users are advised to consult the compatibility section of your DVD/VCD player first.

DVD REGION CODE DESIGNATIONS

The DVD world is divided into six major geographical regions, with two additional regions reserved for specialized use.

This means that DVD players and DVDs are labeled for operation within a specific geographical region in the world. For example, the U.S. is in region 1. This means that all DVD players sold in the U.S. are made to region 1 specifications. As a result, region 1 players can only play region 1 discs. The DVDs are encoded for a specific region UNLESS you own a Code Free DVD player.

REGION 1 -- USA, Canada
REGION 2 -- Japan, Europe, South Africa, Middle East, Greenland
REGION 3 -- S.Korea, Taiwan, Hong Kong, South East Asia including Philippines
REGION 4 -- Australia, New Zealand, Latin America (including Mexico)
REGION 5 -- Eastern Europe, Russia, India, Africa
REGION 6 -- China
REGION 7 -- Reserved for Unspecified Special Use
REGION 8 -- Reserved for Cruise Ships, Airlines, etc...
REGION 0 or REGION ALL -- Discs are uncoded and can be played Worldwide,

SYSTEM: Philippine videos must be played in an NTSC-compatible unit.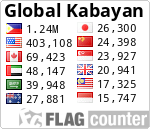 Philippine Cigars Webstore
Tabacalera & Tabaqueria Cigars:
Highly rated by Smoke magazine.
www.philippinesbestcigars.com
Baguio: The coolest place in the Phils


If you havent been to Baguio in the past 5 years, now is the best time to go!
www.haggiyo-mountain-tours.com
Food Delivery Service

Send HOT FOOD to your Family & Friends in the Philippines!
www.e-Kain.com
Travelling To The Philippines?

Up to 75% discount with instant confirmation!
AsiaTravel.com