Some US brand DVD players are not compatible with VCDs. Please check with your DVD player specifications first.

Philippine DVDs are rated multi-region and will work in US DVD players without any problem.

Air Mail S&H Computation Guide:
$5.00 plus $3.00 per VCD or DVD or VHS. So if you order one VCD and two DVDs, your S&H will be $5.00 + ($3.00 x 3) = $14.00.

Vintage B&W Movies
Filipino Movies
Concert Videos
Children's Videos
Documentary Videos
Livelihood Videos
Instructional Videos

KabayanCentral only sells
original CDs, DVDs and tapes.

Want To Send Groceries, Pizza, Fried Chix, Cake, Pansit, Lechon, Flowers, and Almost Anything To Metro Manila and Other Major Cities in the Philippines? You can do this at our sister site:
e-Kain.Com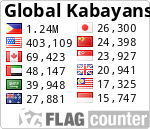 Hiraya Manawari
Video Series

"So let your dreams come true!"
This is what Hirayamanawari means.

Every Hiraya episode is a journey into a magical land.

Sometimes the journey means meeting mythical creatures like the Mayenad, or battling evil forces from the back of Grasya, the flying dragon.

Sometimes the journey takes place in "the real world" where kids have real problems, like Boy Astig who did not get the part he wanted in the school play, or Kela who felt her father did not love her.

But whether the story happens in a fantastic or a real world, Hirayamanawari always leads to a place where the light of truth, the warmth of hope, the cloak of courage, and the magic of love prove that you can let your dreams come true!

Hiraya Manawari Set

---

Volume 1

Disc 1
• Si Mithi at si Maya (self-discipline)
• Daigdig ng Makalat (self-discipline, cleanliness / orderliness)
• Boses (Humility)
• Batang Smart (Honesty)
• Elemento 1 & 2 (Honesty / Truthfulness / Responsibility)
• Daliri Discount (Patience / Righteousness)
• Obra Maestro (Integrity / Courage)

Disc 2
• Lumang Tanghalan 1 & 2 (Compassion / Forgiveness)
• Si Martin, Magiting (Courage to Face One's Fears)
• Ang Kuya Kong Maton (Respect / Courage to Face One's Responsibility)
• Palaruan (Compassion)
• Tanawin Mula sa Bintana (Self-Control / Forgiveness)
• Nang Makialam si Luntian 1 & 2 (Respect for other people's property / Truthfulness)

Volume 2

Disc 1
• Eggward (Respect / Honesty)
• Ang Kulay Indigo (Responsibility / Cooperation)
• Varsity Jacket (Confidence to be oneself)
• Isang Gabi sa Buhay ni Lester (Self-worth)
• Prinsesang Dalisay (Purity)
• 20 Tina (Self-worth)
• Ang Shorts ni Alejandro (Self-Confidence)
• Aklat (Curiosity / Resourcefulness)

Disc 2
• Imbisibol 1 & 2 (Humility / Golden Rule / Love)
• Si Martin, Magiting (Courage to Face One's Fears)
• Pader (Peace, Co-existence)
• Regalo (Benevolence)
• Ate (Love / Self-Esteem)
• Anino (Friendship / Humility)
• Tren ni Isaw 1 & 2 (Love)

Volume 3

Disc 1
• Bad Boys (To do good and be kind)
• Awit ni Kuya (Cheerfulness / Physical Affection)
• Ciel 1 & 2 (Family Bond / Love)
• Tabby (Acceptance)
• Daddy ni Dinggay (Family Belonging / Communication)
• Faith 1 & 2 (Faith / Mutual Support)

Disc 2
• Ang Lihim na Buhay ng mga Estatwa (Decisiveness / Caring)
• Apolonio sa Kaharian ng Hardinia (Respect and care for Living Things)
• Batang Skawt (Responsibility / Dependability)
• Hiyas (Harmony with Nature)
• Si Ria at ang Higante 1 & 2 (Harmony through effective communication)
• Bulalakaw (Compassion / Friendship)
• Haring Mapet (Integrity / Honesty)

Volume 4

Disc 1
• Ihip ng Hangin (Love / Understanding)
• Yakap (Communication / Understanding)
• Jessie (Friendship / Courage)
• Saranggola (Love / Understand)
• Ang Agimat ni Ingkong Tano (Courage)
• Ang Hiwaga ni Bre-Ar (Self-Reliance / Trustworthiness)
• Ang Nga Lola (Self-Discipline)
• 1305 (Generosity / Joyfulness)

Disc 2
• Ang Hiling ng Palamuting Anghel (Hope/Love)
• Anak ng Salamangkero (Love)
• Tumba-tumba (Respect for Elders)
• Saranggola ni Boyet (Family Belonging)
Kabayan Recommends

Books for the Pinoy Kids.